Dangers & Disadvantages of Single Layer Fuel Tanks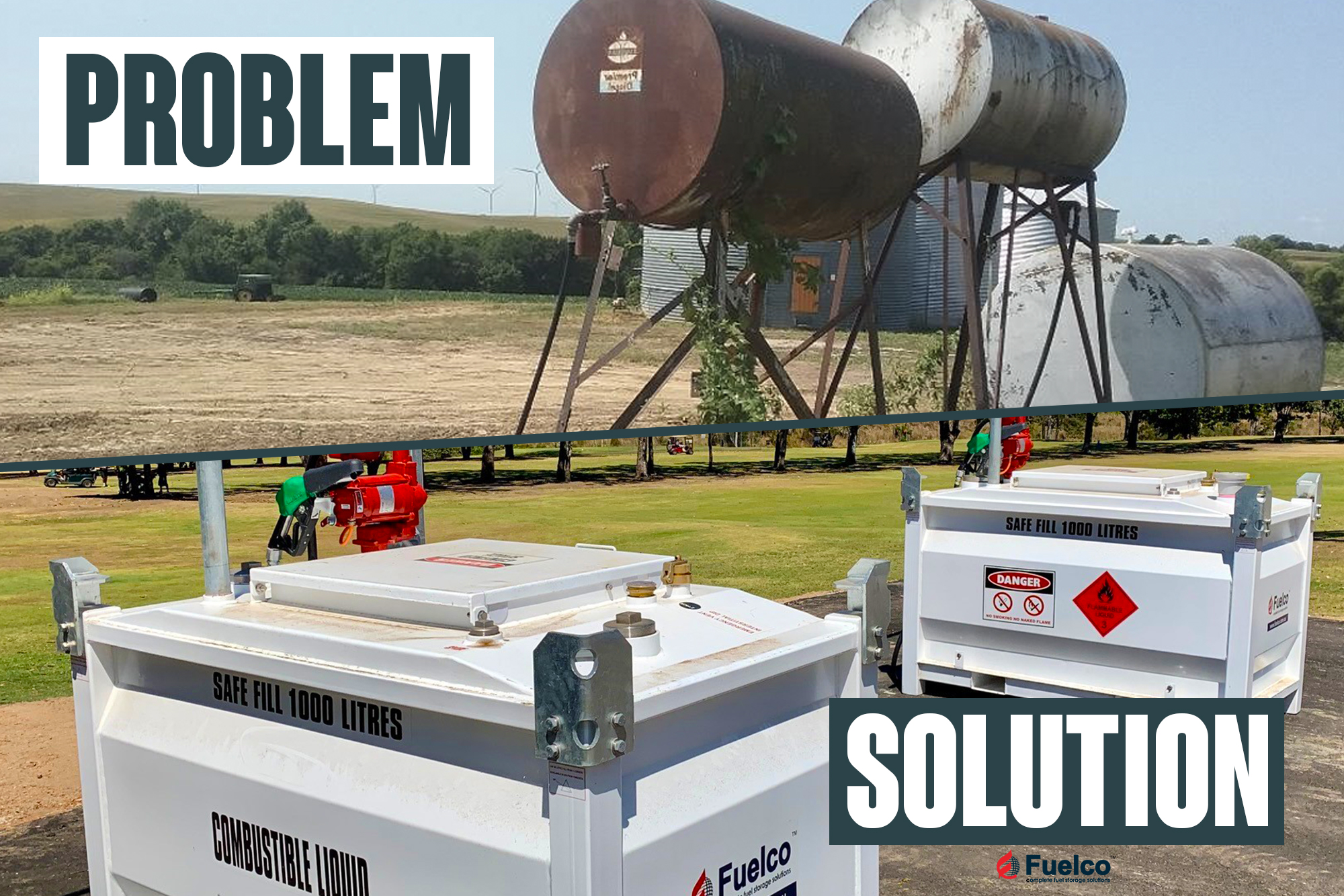 Self-Bunded vs Single Skin Tanks

Is your fuel storage looking worse for wear? This is a classic and all too common site for tanks with environmental contamination.
Traditional, single-skinned storage tanks require the construction of a costly, environmentally unfriendly permanent 'bund' area. With full exposure to the elements, tank integrity and durability is compromised over time.

What is a Self-Bunded Tank?
The solution is – Fuelco Industrial's self-bunded tanks (also known as double walled tanks) are essentially a tank within a tank. The inner shell serves as storage, and the outer tank will serve as the protective layer. This eliminates the need for a costly, permanent built bunded area.
The bunded area holds 110% of the inner tanks volume.
Self-Bunded Tank Advantages:
All Fuelco Self Bunded Tanks are true "Plug-n-Play" solutions with almost no pre-preparation needed. Meaning the functionality is ready to go as soon as you are ready. All you need is power and a flat surface.
There is no need for a bund to sit the tank in – so no contaminated rainwater to test before releasing.
No requirements for any other bunding at site.
The minimum ground preparation is a hard level compacted service to sit the Fuelco tank on.
Here you can drop a fully assembled Fuelco tank/ system on the ground with pumping equipment ready to use – just connect air or power.
Fuelco systems are factory assembled and wet tested – any wet test issues are addressed before the customer receives the tank.
Fuelco tanks are transported as a shipping container by ship, rail or road transport.
Fuelco Tanks are in-expensive, fast and easy to re-locate.
The barrel of the tank has full under tank visuals – Fuelco tanks are shaped not to pool water.
Fuelco tanks can be linked together to increase storage if needed – a 110,000 litre tank or 10 x 110,000 litre tanks all connected together (Tank Farm).
Fuelco tanks are cyclone rated – can be easily fixed to the ground – easily moved to the next site if no longer needed.
The dispensing equipment can be installed within the tanks weatherproof lockable pump bay.
Fuelco tanks are used by mining, rental companies and project companies where the requirements for fuel and oil storage are temporary during construction.
The same tanks can be applied to a fixed installation on a customer's site.
Fuelco tanks can be used for the following storage solutions: mining, aviation, marine, rail, road transport, oils, waste oil and chemicals.
Fuelco tanks are UL142 rated, the highest testing level available for storage tanks.
We use marine quality paint on our tanks – all tanks come with safety signage.
Order A Self-Bunded Tank
Fuelco Tanks come in all shapes and sizes to suit your needs!
We offer different styles of Self Bunded Tanks with various capacities to suit your needs.
If you have any further questions, please contact your CCI state representative. You can reach us on 1300 138 804 or contact us here.
---
Leave a comment