State of the Art Driving Range Turf Mat System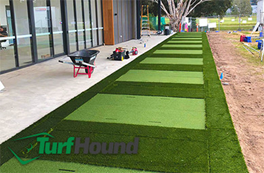 TurfHound - Tee Line Turf System
TurfHound Synthetic Turf goes into the Australian Golf Club.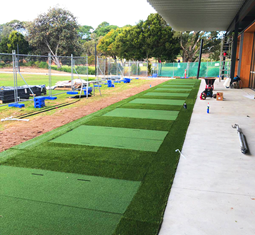 With the anticipated arrival of TurfHound – to our shores, the Australian Golf Club is the first club to proceed with this new integrated Tee Line Turf System. The new state of the art facility, due to open July 15th has set a clear benchmark in Practice Facilities for the rest of the country to aspire towards. Steven Shearer – 'General Manager' made comment that after the experience of the traditional glue down Tee Turf, the club sort a prestigious product that would outlast the old style. The answer was TurfHound! No more rubber tees. With individual tee slot locations, interchangeable panels, with fairway and grass hitting options. The choice was a no brainer solution.
Is TurfHound suitable for your facility?
· They're built to last
· Dynamic and easy to install/ adjust
· Provides a realistic surface and system to hit from
The TurfHound Tee Surfaces are built to last and in such a way that each modular panel can be manoeuvred into different positions in order to extend the product life. With the dynamic features and TurfHound's patented dual-density foam, it provides a realistic strike of the golf ball. The Tee system as a training aid allows a golfer to use any tee they choose, with an easy and inexpensive replacement of the tee holder system.
The double layer foam system which the Tee Surfaces boast provide the golfer with comfort and realistic golf practice mat, allowing them to use every club in their bag. This eliminates shock to their wrist, elbow or shoulder. These panels can be removed and washed, rotated and cared for, ultimately increasing their life span and providing quality golf hitting mat for years to come.
Showcase:
Here are some of the new installations of hitting mats, which clubs and practice facilities have established recently:
New Installation at Cummaquid CC, MA TL080-9.6

Recently installed at the historic Cummaquid Golf Club in Cummaquid, MA. Cummaquid was the first Golf Course to be built in Cape Cod! Pictured is the deluxe TL080-9.6 Tee Line.
New Installation at Mountain Ridge CC, NJ TL080-9.6

Recently installed in West Caldwell New Jersey, the deluxe TL080-9.6 Tee Line. Mountain Ridge is a beautiful mountainous club with a newly renovated golf grill and now driving range
New Installation at Coto de Caza, CA TL059-11

Recent installation at Coto de Caza Golf & Racquet Club, in Coto de Caza California. The newly renovated golf range now has two times the range hitting area than before! This was a 36- station tee line on a curve.
Updated Images of Hopkinton CC TL080-9.25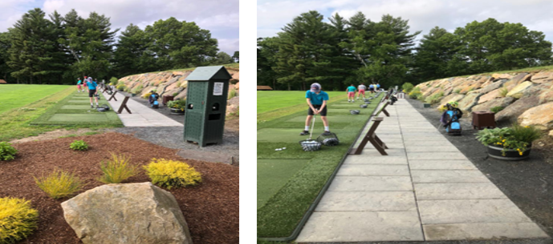 This installation was completed last year, but they did not have images of the updated landscaping. They did a fantastic job. You can see that they allowed space behind the bluestone due to the water runoff from above the rock.
New Installation at Army Navy CC Fairfax, VA TL059-9.5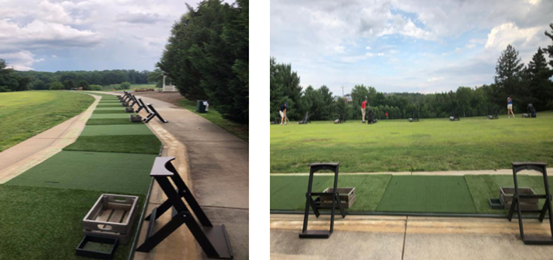 Installed recently at the Army Navy Country Club in Fairfax Virginia. This private, member owned club has two facilities; the club at Fairfax has an extremely short and tight practice facility with very limited natural grass. A tricky installation but turned out great.
TurfHound Product Showcase – 2019
TurfHound Tip:
Preventive Maintenance

To keep your TurfHound system looking clean and up to standard for your members, we advise following these simple tips to extend its lifespan:
Rotating the station so that the rough panels and/ or fairway are anywhere along the tee line. The rough fibres should turn into a "natural swirl" after being rotated. When rotating, remember to keep the grain facing the target. This picture shows there has been no rotation leading to rough and worn patches. Once it does rest and "swirl", we recommend rotating the panels so they are facing away from the hitting target.
This next picture shows a lot of build up of dirt, fertilizer and top dressing within the frame of the panels. This is a problem as the system is unable to lie flat in the frame. This should be apparent when rotating mats and should be cleared out whenever possible.
---
Leave a comment