Recently supplied by CCI
Author: Country Club International Date Posted:27 August 2019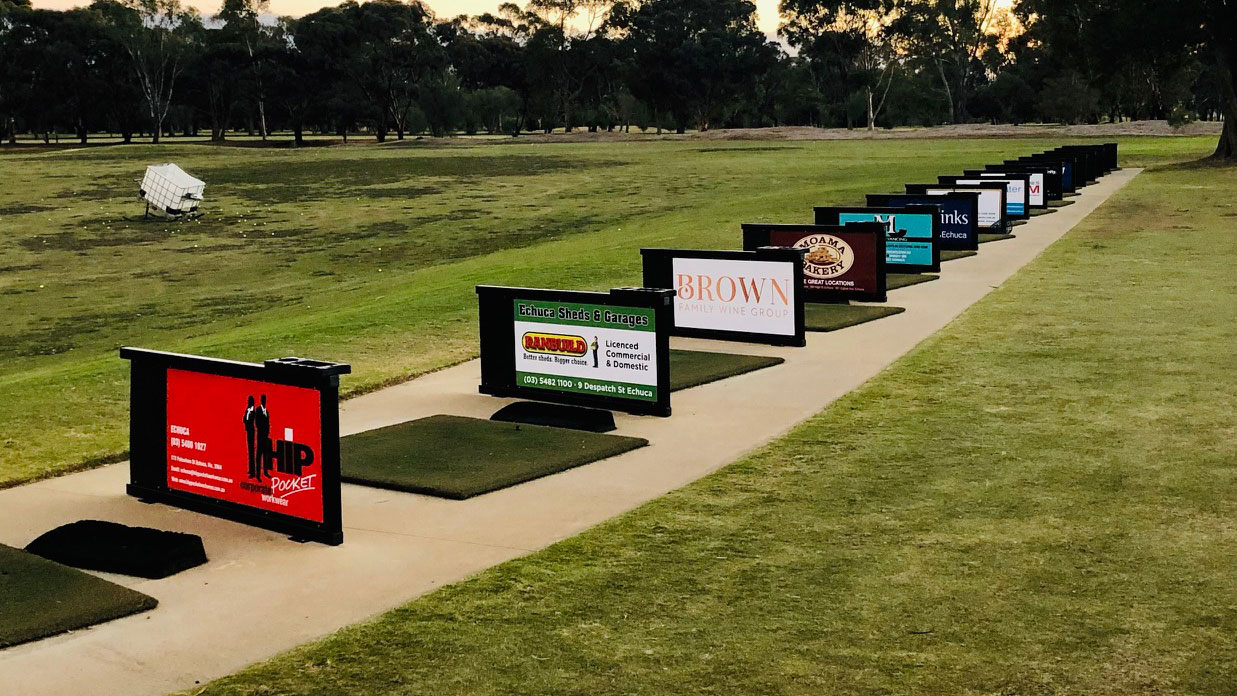 Country Club International is a leader in the golf and sporting supply market! The company was formed through frustration of its founding and current Managing Director - Mike Baker. In the early days as a golf range operator, Mike struggled to find the quality products available to suit his facility from domestic suppliers.
Today, CCI has grown to support the best product supply partnerships with a vast local and international relationship base. It is our goal to "supply the best and nothing less".
We've worked with many golf clubs supplying them with all kinds of equipment and installations they could need for their courses.
Let's take a look at some of the clubs we've supplied to all around Australia.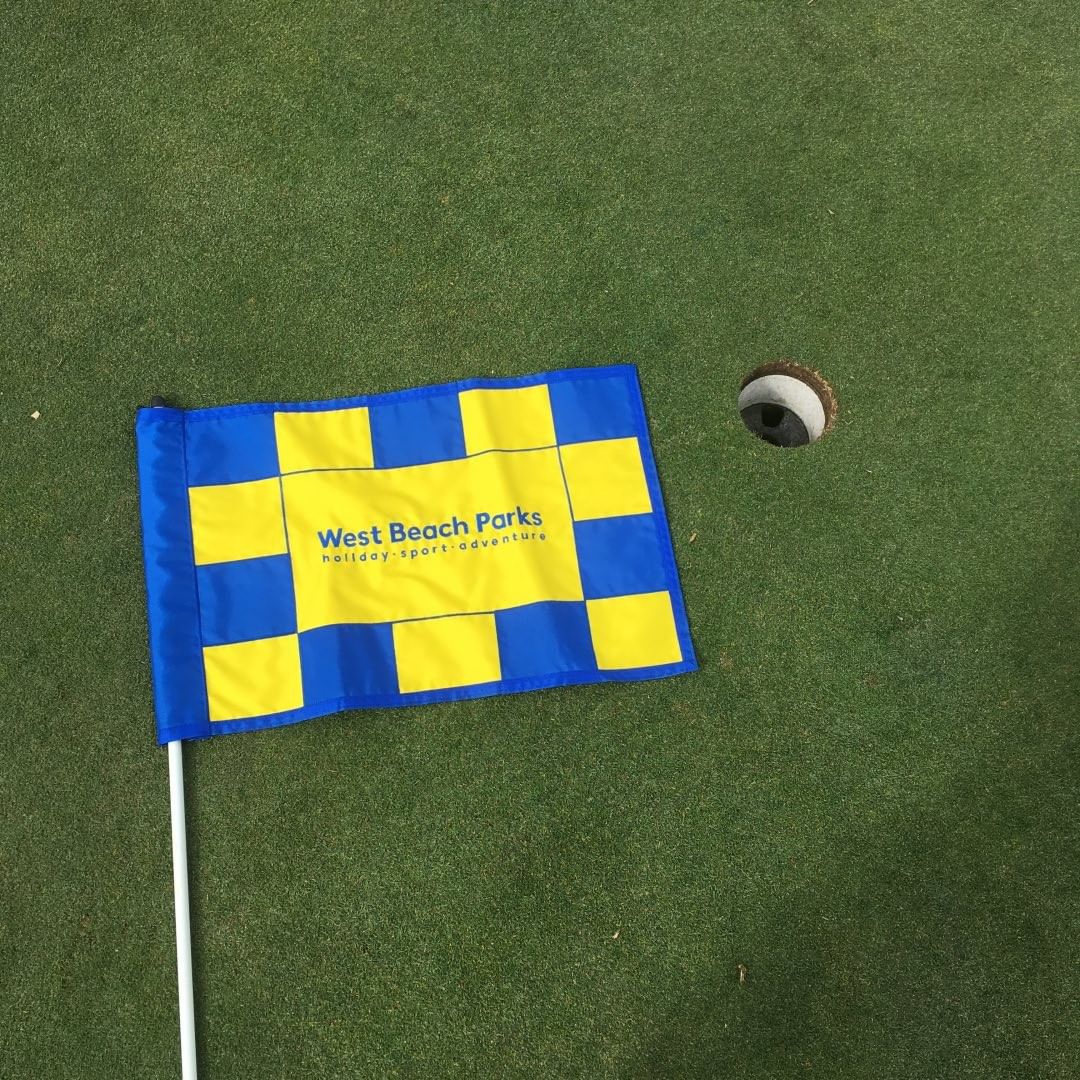 New custom embroidered logo flags for West Beach Parks in Adelaide. Shining bright on the turf all winter through. We stock Par Aide and Seaborn Canvas flags that can be used on your golf course to mark the holes. We can help design and customise your logo to be embroidered onto your flags. To make your course stand out with our professional finishes.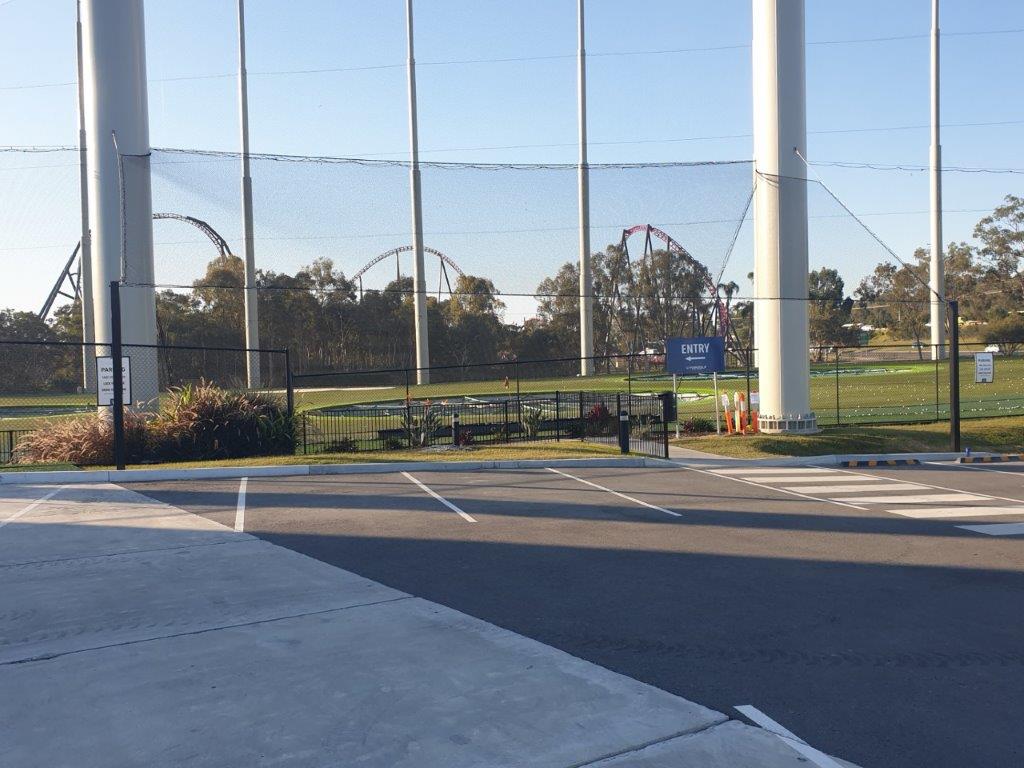 Topgolf is the ultimate place to play, eat, drink and enjoy. At Topgolf, you'll hit micro-chipped golf balls into giant targets on the outfield from your very own bay, scoring points when you hit them! Choose from a range of games to suit every skill level. It's fun for the whole family! Your bay hire includes unlimited balls and the use of clubs, so you can really test your Topgolf skills!
Here are some final pics of the roof net install at Topgolf!
The goal is to protect pedestrians entering the staff entry point with 16m long and 8m canopy dimensions.
CCI Safety fencing exclusively imports Redden #930 and Dyneema multifilament polyester barrier netting which is regarded as the lightest and strongest net of its type. This is made possible with the use of Kevlar compound filament. At 92% sheer these netting types are aesthetically better and are almost translucent.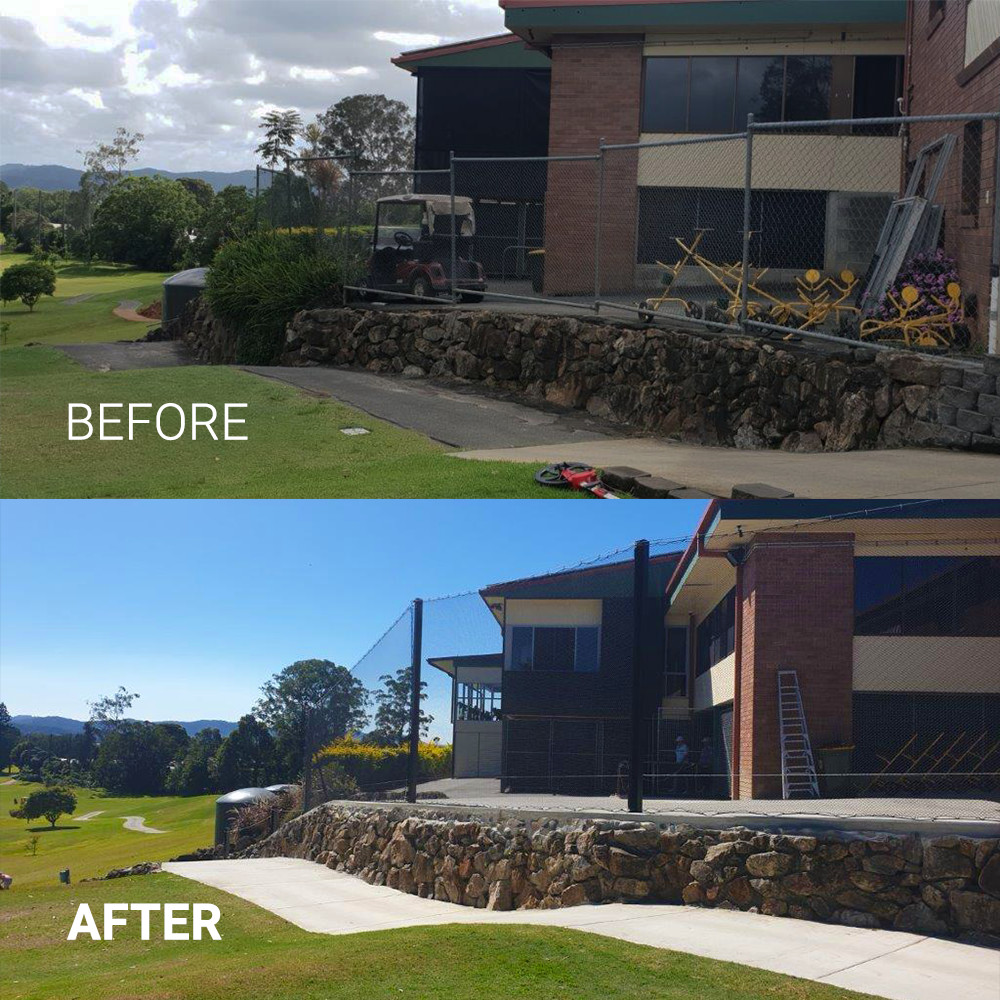 Before and after shot of the Murwillumbah Golf Club install.
Country Club International replaced the old structure with new 30m long x 4m high safety netting, to stop shanks from men's tees hitting the clubhouse building. This area behind the net had a lot of pedestrian traffic to and from the locker rooms and is where the carts were detailed each afternoon.
Redden 950 was used here, with the bottom of net affixed to a new concrete slab (as requested by client). Redden is regarded as the lightest and strongest net of its type, made possible with the use of Kevlar compound filament. At 92% sheer these netting types are aesthetically better and are almost translucent.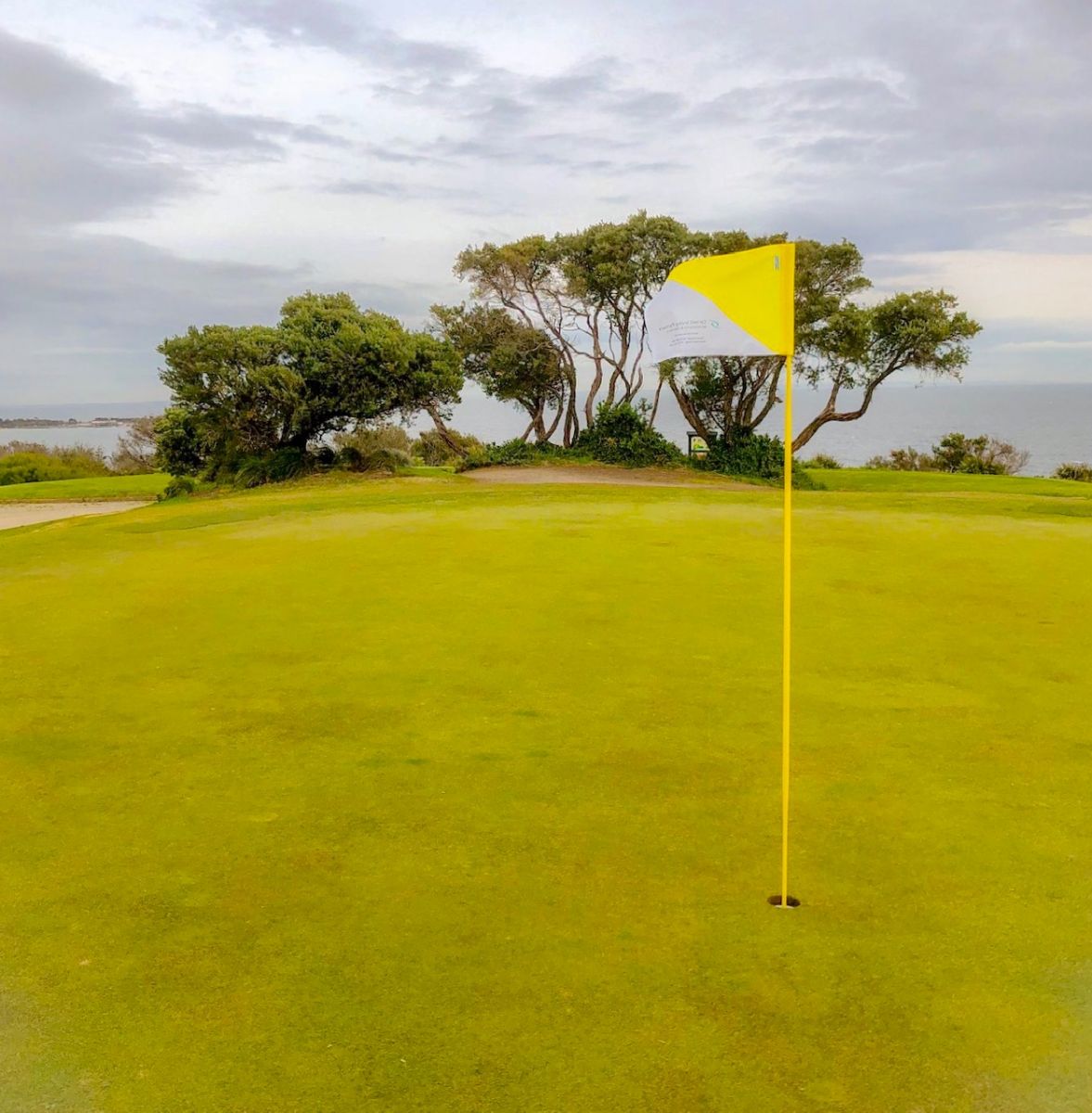 Mornington Golf Club has just fitted out their golf course with brand new locking ferrule system cups and ferrules to help reduce movement of the flagpole in windy conditions. There's nothing worse than a flagstick that leans to one side, the main reason for this tilting is wear on the cup and flagstick caused by sand and dirt trapped in the cup. As the wind blows, the flags twist and turn and the trapped grit grinds the cup like sandpaper, ruining the fit. The new ferrule system reduces wear and tear on the flagpole and putting cup and allows sand and soil to pass through to eliminate sticking.
They have also purchased new yellow tournament tapered Paraide flagpoles and new logo flags.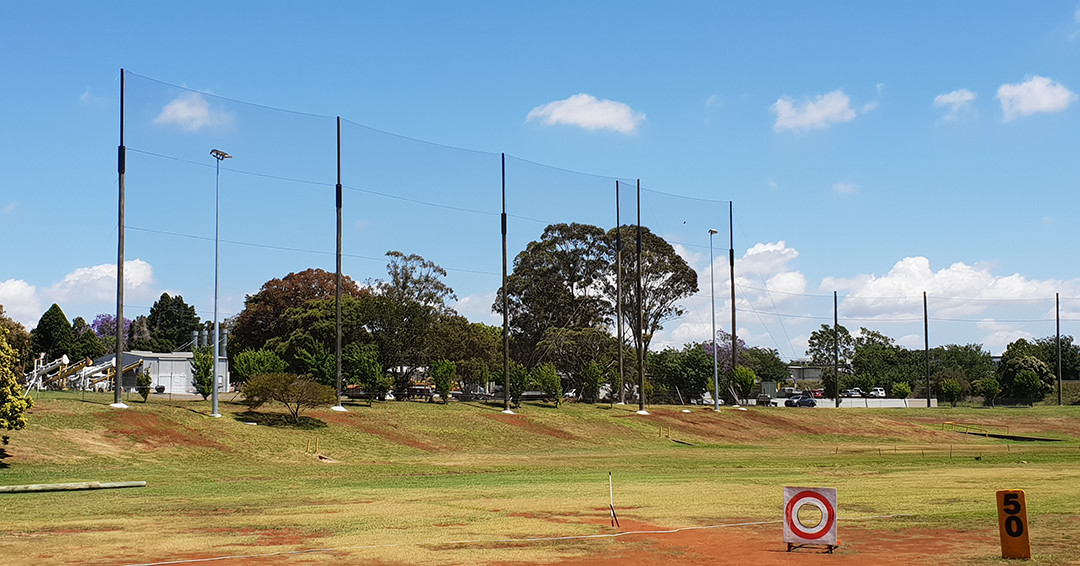 Safety Screen fitting at Toowoomba Driving Range at City Golf Club.
80m long with steel extensions - 25m high to protect an industrial property on the boundary of the range.
Golf barrier netting for golf ranges uses mathematical model golf ball launch trajectory analytics to ensure the right height for maximum protection.
CCI safety netting has many applications including:
Golf Barrier Netting for the course or golf range with the option of construction with the use of mathematical model golf ball launch trajectory analytics.
Ball Stop Netting for the use in a variety of sports such as AFL, Soccer, Hockey, Rugby League, Cricket and Tennis.
General Protection Netting with demand high to protect people against various applications CCI – Safety Netting can help provide suitable custom options to cover most needs. From Children's playground solutions, litter netting, bird netting and car protection.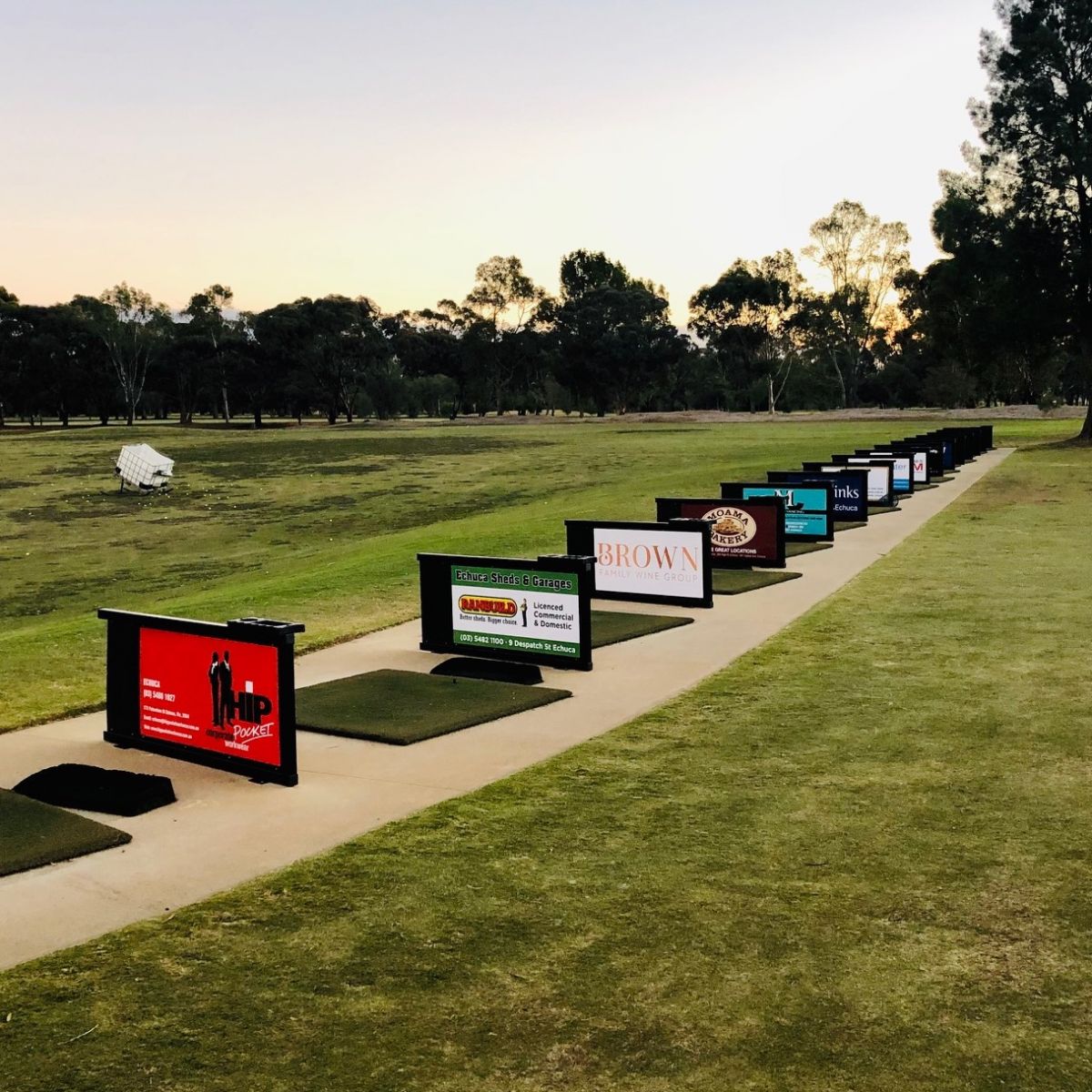 18 bay dividers supplied to Rich River Golf Club. Constructed of a powder coated steel frame and durable polyethylene panels making it sturdy enough for wayward balls whilst looking great out on the range.
Double-sided advertising opportunities also mean you can maximise revenue for your range.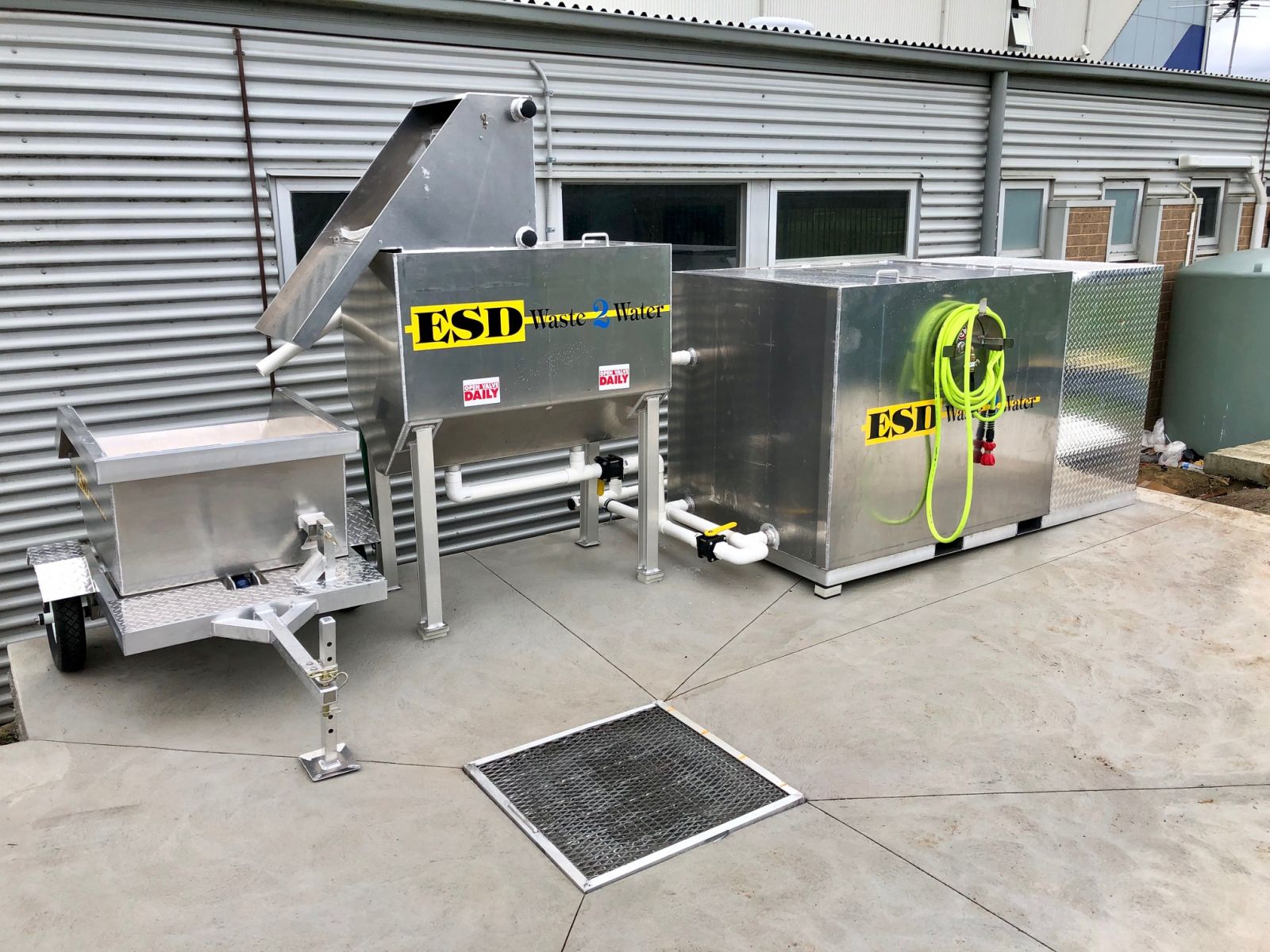 ESD Waste2Water is a worldwide leader in industrial wastewater treatment and environmental remediation equipment.
They design, manufacture, install and service environmental protection systems for clients across the United States, Canada, Europe, South America and Australia.
ESD leads the industry with cutting edge technology and clever, low maintenance designs, backed by superior customer service.
This is the new ESD water management system we installed at Mazenod College in Melbourne! Providing systems to contain, manage and treat any contaminates with custom solutions for various Environmental Centres.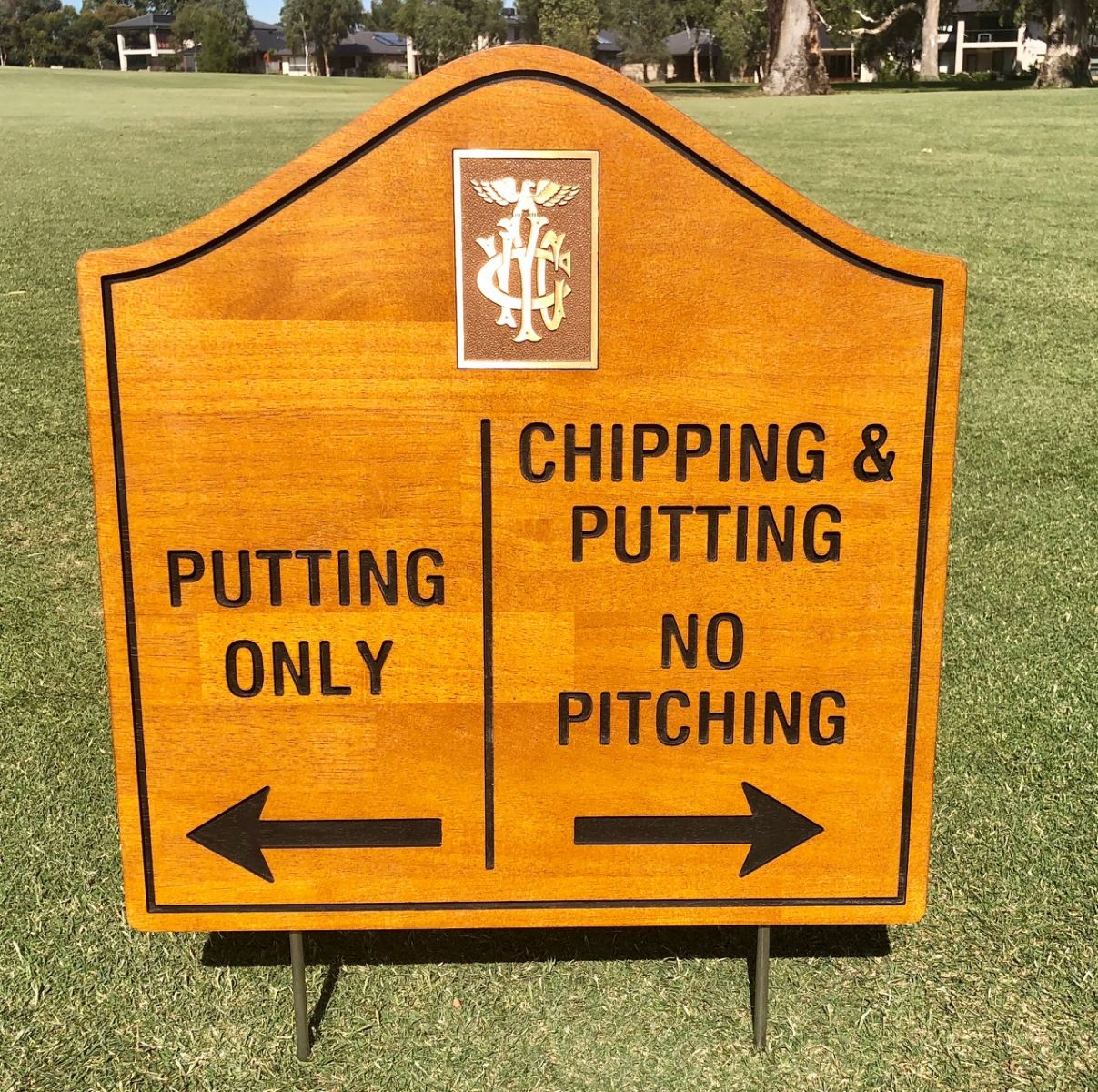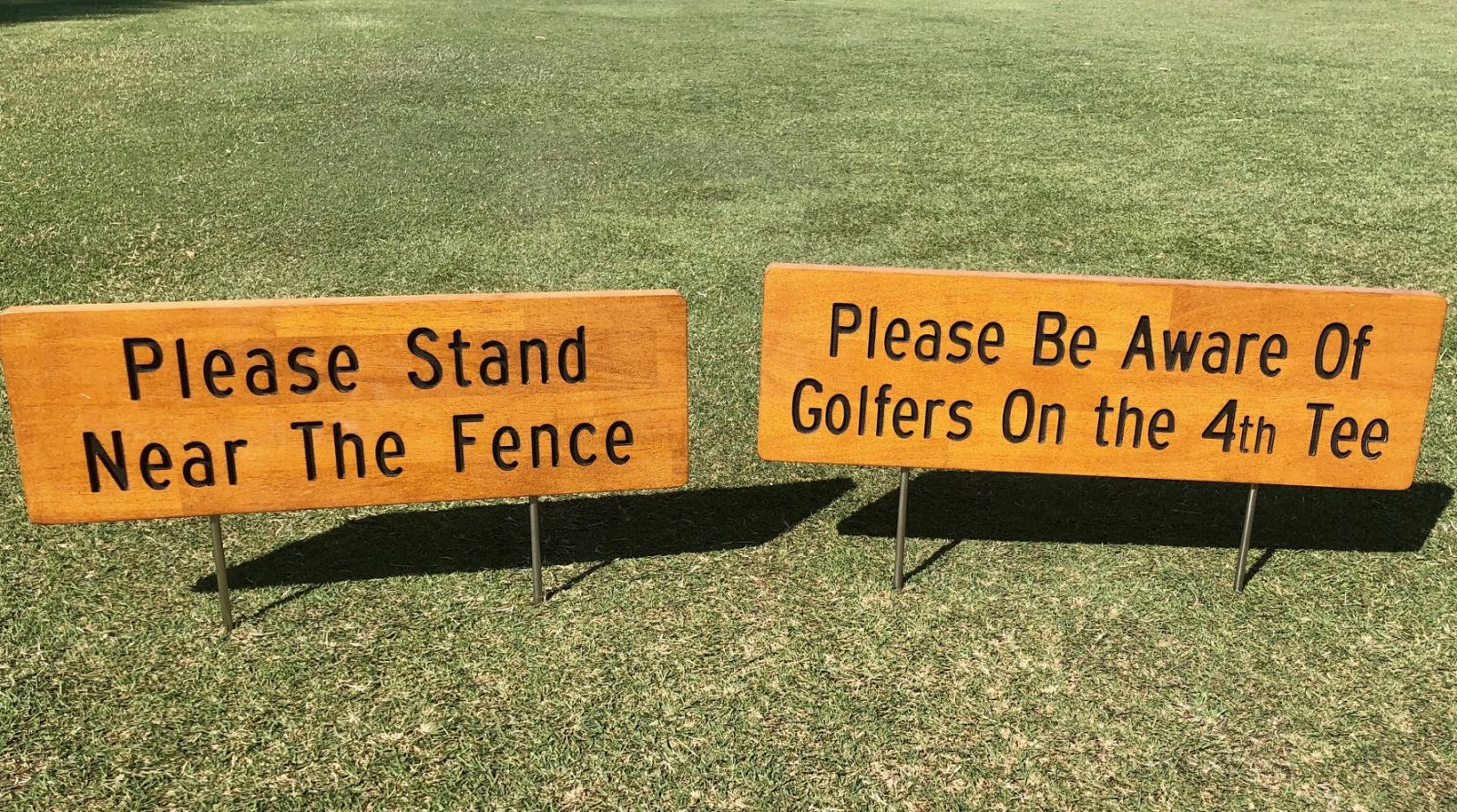 We helped Yarra Yarra Golf Club with their personal design of customer timber signs for their course!
These signs have routed and painted lettering and are hand-oiled to maintain a rich, hardwood colour with stainless steel spikes giving your course that timeless, traditional look.
The aesthetic of your club can have a greater impact on your members than you know. Being proud of the sport you love to play and your local club is an important part of loving the game.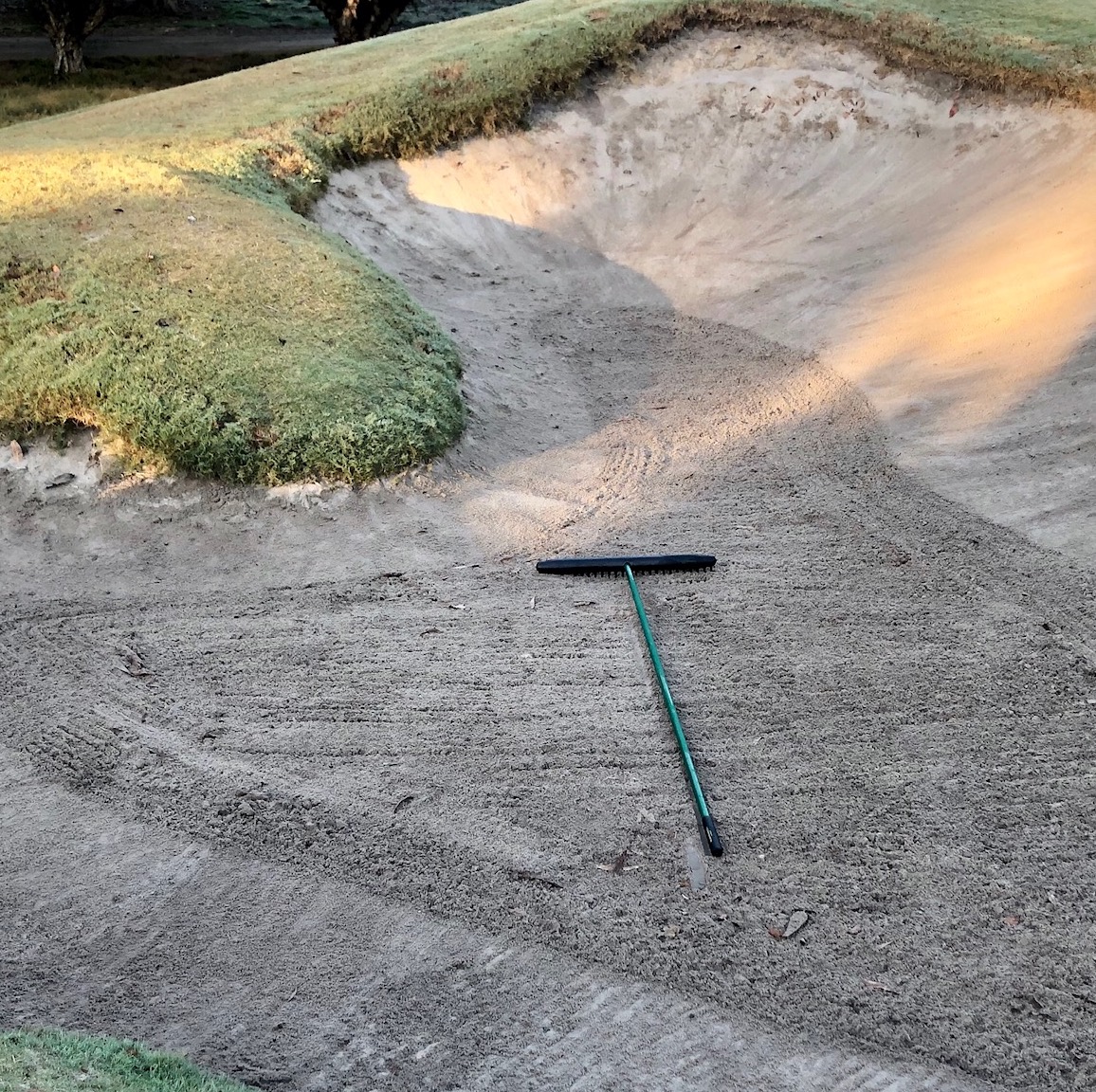 Kew Golf Club ordered 100 of the Par Aide Accuform Ace II Bunker Rakes (25" wide head with 1.8m handle). Kew first sampled these rakes to see if they would suit their golf course and sand and were really happy with how the rake performed.
It is the most trusted bunker rake for tournaments worldwide with a patented design to reduce furrows. Smoothing out bunkers is easier than ever with the Par Aide Accuform Ace II Bunker Rake Head's ultra-lightweight design coupled with the Par Aide Fibreglass Honeycomb Rake Handle.
Features:
Accuform Ace II Bunker Rake Head
Tapered ends to reduce furrows
Impact resistant, high-density poly construction
Each pass of the rake blends with the pass made before and after
Available in 17 Inch and 25 Inch lengths
Fibreglass Honeycomb Rake Handle
Honeycomb construction for strength
UV protection
Includes rubber end grip
Available in 54 Inch and 72 Inch lengths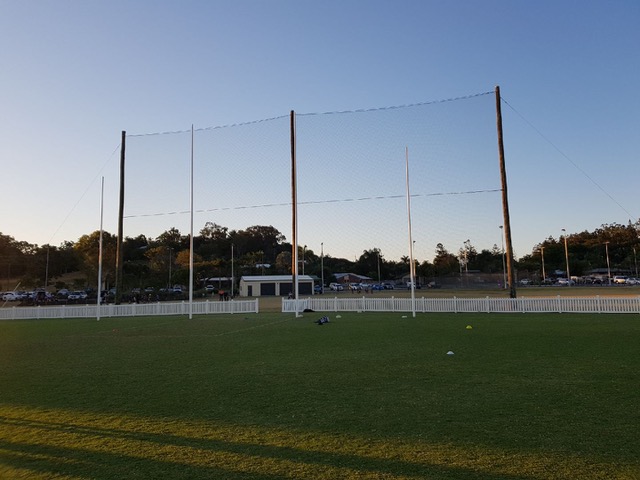 Ball Stop Netting is used in a variety of sports such as such as AFL, Soccer, Hockey, Rugby League, Cricket and Tennis.
Here is the safety net fitting we installed at Mackay Magpies Sports Club in QLD. Equipped with a newly constructed 30m wide x 15m high, AFL ball stop screen with premium Redden net and 1m skirt for maintenance.
We would like to take a moment to thank all of the golf clubs who have supported CCI over the years! It's your continued support that enables us to keep supplying the best quality products and solutions for all golf courses and sporting ranges.
Contact CCI at 1300 138 804 or email info@countryclub.com.au
---
Leave a comment