$8 Million luxury driving range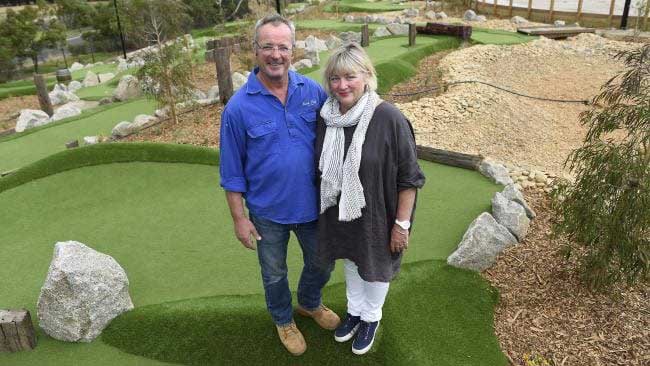 Curlewis Golf Club is busy putting the finishing touches on The Range @ Curlewis, an $8 million project that will feature several groundbreaking drawcards including 18 indoor and outdoor driving bays, simulators and a two-tier mini golf course.
One of its most striking features will be a 30m high driving range fence that is 225m long.
There are also appetisers for non-golfers, with conference facilities and three dining areas, including one making use of a 35m deck.
"There is nothing else quite like it in the state," co-owner Lyndsay Sharp said. "It's certainly the most ambitious project (my partner) David and I have ever undertaken.
"If anyone had suggested a few years ago we should contemplate building a driving range and mini golf complex, we would have said they had rocks in their head."
The Range is 1km from the existing clubhouse and links up with the Bellarine Rail Trail. It is hoped the new facility will be ready by the Australia Day weekend. "The clubhouse is abuzz with energy and anticipation," Mrs Sharp said. "Once the 30m high nets went up, heads really started to turn and people realised this was not your ordinary driving range facility under construction." The clubhouse will remain the golf club's central hub. Mrs Sharp said it and The Range were "totally different" experiences.
"The evolution of Curlewis is as a multifaceted and dynamic community club which offers an array of activities and dining for people of all ages to come together and enjoy their down time on a number of levels," she said.
"The existing clubhouse will remain as a popular contemporary dining facility.
"The food offerings are quite different from what will be on offer at The Range @ Curlewis, which will offer a broad range of cool share concept meals and snacks, including breakfast seven days a week."
The development comes at a time Curlewis Golf Club experiences unprecedented growth, with more than 200 new members signing on in the past two years. It is the fastest growing golf club in Australia.
The next phase in its evolution will be a major redevelopment of the clubhouse.
Mrs Sharp said it would start developing plans in 2018.
The club has also submitted a proposal to develop eco-accommodation on site for up to 100 people.
"It's definitely an exciting time for everyone at the club," Mrs Sharp said.
THE RANGE @ CURLEWIS — HIGHLIGHTS
18 indoor/outdoor driving bays, including nine featuring pop-up automated tee systems.
Targets that indicate distance.
Two X-Golf simulators.
Two ES15 launch monitors, providing club head and ball speeds, smash factor, spin rate and distance.
A dedicated teaching/training bay.
Trackman Golf performance technology, which combines data, video and overlay graphics.
Dedicated chipping area
Two-tier mini golf course featuring a reticulated recycled water stream running through it.
35m north-facing deck.
Direct access from the Bellarine Rail Trail, including a dedicated bike parking station.
Conference facilities for up to 200 people.
Three distinct dining areas catering up to 400 people.
Originally published by the Geelong Advertister
---
Leave a comment