Country club international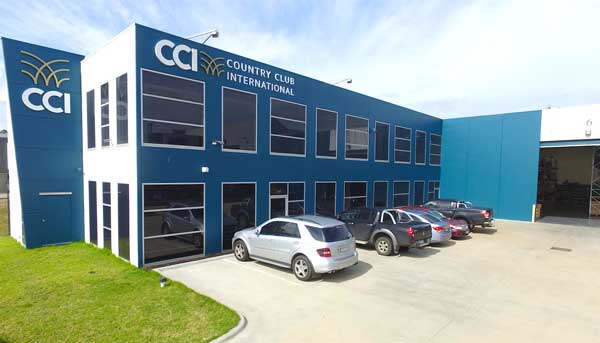 The new location is a fitting fresh start for CCI's recent overall transformation. The company's expansion into Golf hardware and Safety Fencing is evident in their upscale warehouse, and striking teal green branded building that can be seen as soon as you enter the street.
Sales Manager, John McCafferty says the opportunity to move to a bigger space was too good to miss.
"As the business has progressively evolved, it was time to move to a larger physical environment that supported the many facets we cover as an organisation"

The 1500 square metre warehouse also means CCI can bring any repair and maintenance works in-house. Their trained team can maintain servicing on their range of wash bays, fuel storage, range ball dispensers and more.The office component of CCI's new home includes a meeting room and upstairs office space for future expansion.
Their new location includes a workshop area, with dedicated workstations, where parts can be mended and restored for a quicker turn around service for customers. This will give CCI a more hands-on approach as they continue to expand.
There is also a dedicated Safety netting facility, where the company's popular netting products can be customised and repaired for jobs of all sizes.
McCafferty says bringing this kind of work back into CCI will only strengthen their customer service moving forward.
"Having the floor space has been a massive plus for the organisation.
It has created better working and servicing for our specialised areas, and allows for an increased stock holding with every effort made to improve the customer experience"
CCI have also implemented a new and smarter way to pick and pack orders, which allows for faster despatch and delivery time. The new system cuts out the middle man between the order and the despatch area, for a more streamlined operation.
"These days customers want goods ordered to arrive the next day. With the execution of our systems and the ongoing structural improvements our delivery efforts are constantly on the improve".
The new, bigger location spells a big future for CCI. As they expand further into their original expertise of Golf Course Equipment, and new directions Water Management and Safety Fencing; the sky is the limit.
Be sure to follow us on social media!
Twitter: @countryclubint
Facebook: https://www.facebook.com/countryclubinternational
Instagram: @countryclubinternational
LinkedIn: https://au.linkedin.com/company/countryclubinternational
Written by Alyce Shaw.
Originally published on Turf Mate
---
Leave a comment